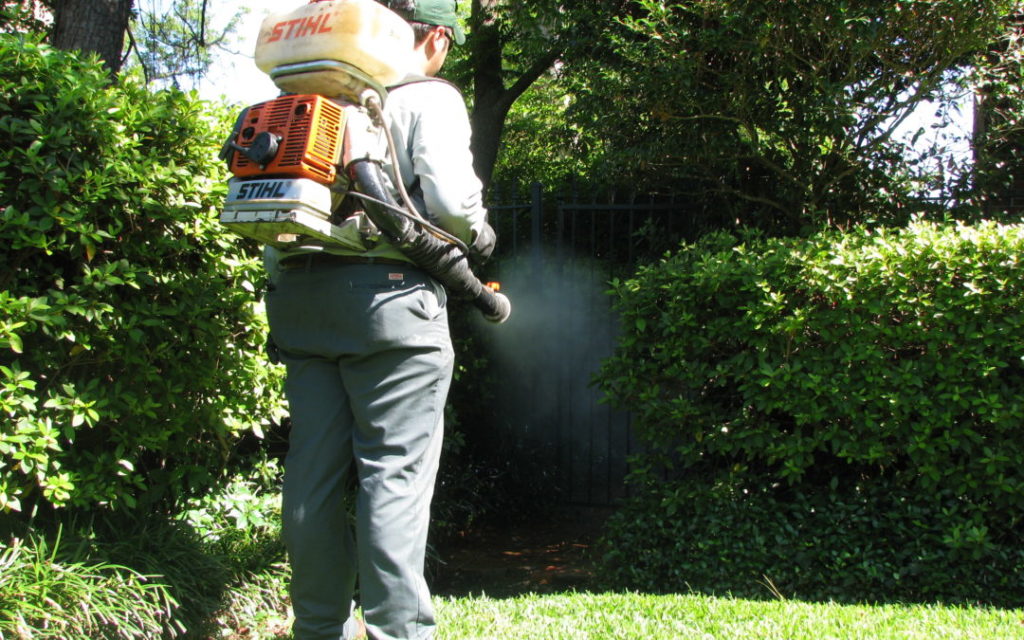 You have worked hard to create the outdoor living space of your dream. Don't let it be ruined by blood hungry, disease carrying mosquitos.
When you call Pestology a highly trained and dedicated Pestologist will come to your property. There he will run through a 12-point inspection process designed to optimize our program for the absolute best results. During the inspection of the property, your Pestologist will uncover key breeding areas and eliminate, when possible, these areas. All the findings in the inspection stage will be given to the home owner on an easy to understand door-hanger. The service door hanger will also provide advice on how to prevent and maintain a mosquito free property.
After the property inspection, your Pestologist will use a specialized backpack sprayer to precisely apply the application to all shrubs and plants. The barrier spray kills mosquitoes on contact and attaches itself to foliage. The treatment will continue to work for weeks into the future. Once dried, usually about 30 minutes, your family and you can begin enjoying the outdoor spay you have worked so hard to create.
We will return in approximately 21 days to ensure that the your outdoor living space is enjoyable all season long, without the fear of unwanted, blood hungry visitors.
Is mosquito control safe?
All the products used in our barrier treatments are considered safe to your family and pets. We use a synthetic form of pyrthrins, that are derived from a naturally occurring compound called pyrethrum, which can be found in the chrysanthemum flower. Because this compound is so safe you can even find it in lice shampoo treatments that are applied directly to the scalp of humans.
Call Pestology today to schedule your appointment. If your property is easily accessible you do not even have to be home when the service is performed.
If you prefer that only natural products are used on your property, then Pestology's All-Natural Mosquito treatment is right for you. This program offers a strong and trusted approach to mosquito repellant. This program offers the same 12-point inspection as the synthetic treatments and we still provide a detailed door-hanger to further help control mosquitos.
The main product we use in our All-Natural Mosquito treatments is derived from garlic oil. It is used to help repel mosquitoes from your property, as opposed to the synthetic treatment which helps to eradicate the mosquito. Because the all-natural products brakes down quickly in the environment they provide a shorter period of protection. A reoccurring treatment is required every 14-days to ensure adequate protection. As with all our mosquito services you can rest assure knowing it comes with the Pestology Guarantee.
Call Pestology today to schedule your appointment. If your property is easily accessible you do not even have to be home when the service is performed.
Having a special event outdoors that you are worried mosquitos are going to make a guest appearance?
Living in Florida means we have a lot of parties, barbecues, wedding, and other exciting events, outdoors. But with that comes the issue that mosquitos will place themselves on your guest list. Requiring strong uses of DEET, citronella, and other repellants that produce odors and can make your skin feel weird.
With Pestology on your guest list we can help eliminate any mosquito making an appearance. We will travel to your event location and apply our strong and safe barrier treatment. We arrive way before guest or food start arriving and apply the treatments. Dry time is typically 30 minutes and will last the entire duration of your event.